The Band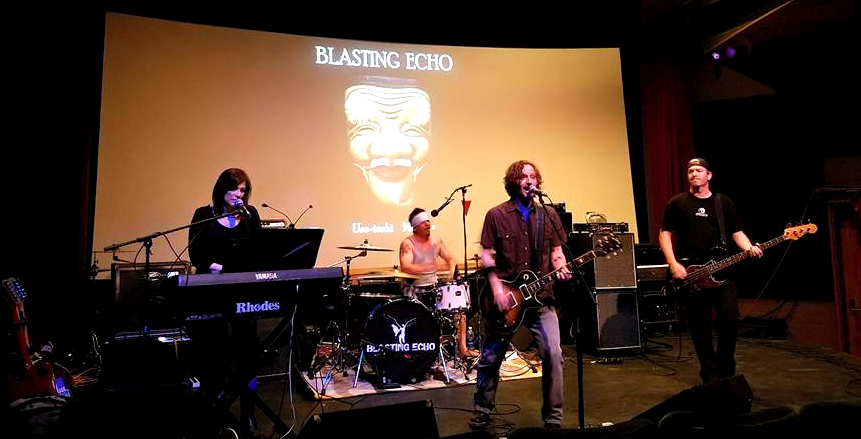 BLASTING ECHO is (L-R) Linda Lemke Heinz, Armando Flores, Josh Heinz and Dub Wallace.
The band encompasses a wide spectrum of music from hard to punk rock and everything in between – while lyrically addressing personal, social and political issues with honesty, energy and intensity. Each member approaches music with enjoyment and passion. This is evident in their recordings, but never more so than in the rawness of their live performances. This is BLASTING ECHO.
A brief history:
Meeting in 2008, Josh and former guitarist/bassist Jeff Fortson discovered a common love of powerful rock music. Upon the break-up of DUFREIGN, the two decided to begin BLASTING ECHO. Armando had known both of the guys from playing around in the local music scene. While letting the two audition drummers at his studio, Armando felt inspired by the band's material. He approached Josh and Jeff with the idea that he could provide the back beat needed for music's driving power. After jamming one time, they knew that it was the right fit. In the spring of 2011, Linda joined the band as keyboardist, adding a new element that diversifies the sound. In the summer of 2013, Jeff amicably left the band to pursue a career as a professional golfer. Dub Wallace became the bass player in the band in the spring of 2015.
The band released their first record The End is Still So Far in April of 2013.
Their second record – Uso-tsuki Mendax – was released in May of 2016.
BLASTING ECHO is well known for their annual Concert for Autism. 2021 will be the 14th consecutive year they have put on the event. Autism is an issue that hits very close to home for the band, as three of the members have children with the disorder. The benefit helps raise funds for The Desert Autism Foundation, which was founded to help families dealing with the challenges of raising a child on the Autism spectrum. To find out more about the event, visit concertforautism.com.
The band has been nominated for several awards – including Best Band, Best Live Band and Best Rock Band – at the Coachella Valley Music Awards over the last 4 years. In 2015, Josh was awarded Best Male Vocalist, sharing the honor with Michael Keeth. In 2016 BLASTING ECHO was awarded Best Rock Band honors.
Currently the band is finishing their third record, tentatively titled The Great Descendo, to be released late 2021, with their good friend Rob Peterson recording, mixing and co-producing.

Josh Heinz – Guitar and Lead Vocals
Josh Heinz began making music as a singer/songwriter/guitarist in Memphis, TN with WYNDOM EARLE in the late 90's. Upon relocating to the Coachella Valley, he created the band DUFREIGN, which became a staple of the local rock scene, garnering Best Rock Band and Best Song honors at the Coachella Valley Music Awards. Josh's rock influences are broad, stretching thru classic, alternative and modern rock. Josh also plays rhythm guitar in the band 5th Town.

Armando Flores – Drums
Drummer Mando Flores is known for his bass playing in B Movie Superstars, Seven4, The Pedestrians and Lung Cookie, but he is also an accomplished drummer laying down the beats for BLASTING ECHO. His influences include NOFX, Tool, Primus, Foo Fighters, Incubus and anything by James Brown. His drumming motto is this: "Keep it simple, stupid." He is also a skilled engineer and producer. He has been at the helm for both of the bands' album releases. As a bassist, Armando currently plays with desert rock staples Whiskey and Knives, Vinny Berry, 5th Town, as well as stints with Courtney Chambers and Kelly Derrickson.

Linda Lemke Heinz – Keyboards
Linda Lemke Heinz plays keyboards and sings backing vocals for the band. Linda studied music education with specializations in instrumental and vocal music in college and has been playing piano and writing music since age 6. Her extensive music knowledge and abilities bring a completely different perspective that enhances and expands the music BLASTING ECHO creates. Linda also sings lead vocals alongside Chelsea Sugarbritches in the band 5th Town. She has also played keyboards, flute, and sung background vocals as part of the backing band for Canadian artist Kelly Derrickson.

Dub Wallace – Bass
Bassist Dub Wallace joined BLASTING ECHO in 2015. In his years of playing bass, Dub has covered just about all genres of music. His influences range from punk to blues to reggae to pop. His versatility and excitement has been re-energizing for the band. Dub has played bass with the well-known blues outfit, Agave Blues Masters, popular reggae outfit, Mozaiq and continues to perform in the award winning cover band Long Duk Dong.